Amazon Account Management
Building sustainable growth through Amazon starts with optimised account set-up and management
Every business is different but the one thing they share is striving for sustainable growth. We've established our agency to help you to achieve your business goals.
We fit seamlessly with your internal structures and processes, bringing expertise in optimising and transforming Amazon as a sales channel for your business
Roles and Responsibilities of an Amazon Online Assistant
An Amazon Online Assistant plays a pivotal role in managing and optimizing various aspects of a seller's presence on the Amazon marketplace. Their responsibilities encompass a range of tasks aimed at enhancing product visibility, customer engagement, and overall sales performance. From product listing optimization, keyword research, and inventory management to handling customer inquiries, reviews, and monitoring competition, an Amazon Online Assistant ensures that the seller's products are well-positioned and effectively managed. They are also responsible for staying updated with Amazon's policies, suggesting strategies for growth, and utilizing data-driven insights to drive better results. In essence, the role demands a combination of e-commerce expertise, strategic thinking, and strong communication skills to ensure success in the competitive world of Amazon selling.
eBay Marketplace Management Services
Our eBay Account Management services are geared towards taking your eBay store to the next level, increasing exposure, sales, and ROI.  Our expert eBay team knows how to navigate the eBay marketplace to increase your brand's visibility.
eBay Seller Account Management Services
eBay is your global e-commerce marketplace. CGS helps with eBay create an accounting process and paves the way for you to prosper. Learn more about our service and how we can prove indispensable for your success on the eBay platform. It does require familiarity with eBay's rules to comply with their eBay create account procedure.
It does not stop there. Following the eBay seller account registration procedure, members must put in promotional efforts to sell, keeping in sight eBay's rules, keeping track of competitors, and pricing their products right. They must also keep track of orders received and execute each order promptly in accordance with laid down guidelines.
All this can be challenging but  eBay seller account management services take care of everything, right from the eBay seller account setup to registering your brand, product listing, order management, managing day-to-day operations, and taking care of any issues that might arise such as product returns, account suspension, and others. With us here, you do not have to worry about growing fast on eBay.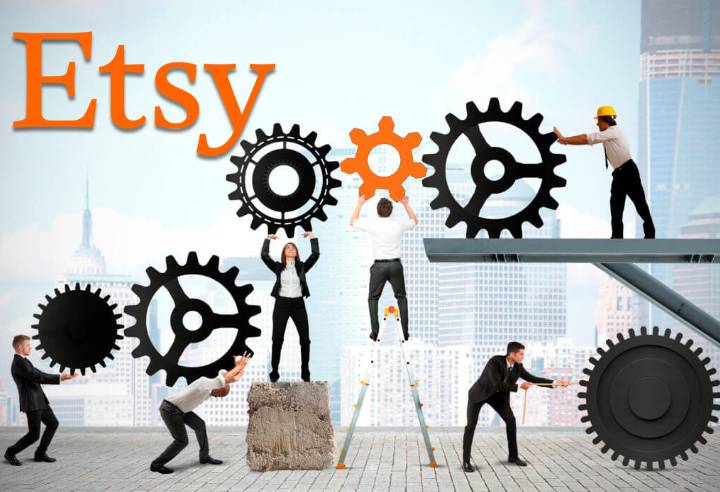 At CGS Consulting Building and maintaining the product corporate ladder has constantly been the utmost factor of satisfaction for both the parties, the clients, and our marketplace geniuses. Here at  we understand that our real success remains with the success of our service consumers. Landing on more than their expectation is the prime focus of our team.
All our clients are welcome to benefit from our product uploading services to attract the relevant and most appropriate crowd and thus securing a higher number of conversions resulting in more profits. Bringing to your Etsy Shop Management surely means a quick and accurate scalability.
Key Pillars of Etsy Account Management
Product Presentation and Optimization: At the core of every Etsy shop are its products. Crafting compelling product titles, descriptions, and high-quality images is an art in itself. Effective account management involves continuously refining these elements to create listings that not only describe the item but also convey its unique story and appeal to potential buyers.

Inventory and Order Control: Keeping a well-organized inventory and ensuring timely order fulfillment are vital for maintaining a positive reputation. Successful account management involves tracking stock levels, updating listings when items are out of stock, and promptly processing orders to meet customer expectations.

Customer Engagement and Communication: Building strong customer relationships is paramount. Engaging with customers, responding to inquiries, addressing concerns, and showing appreciation for their support can lead to repeat business and positive word-of-mouth recommendations.

Marketing Strategies and Promotions: Etsy account management extends beyond the confines of the platform. Effective marketing involves leveraging social media, email campaigns, and even collaborations to increase brand visibility. Account managers create and execute strategies that align with the seller's brand identity and target audience.

Staying Abreast of Platform Changes: Etsy frequently updates its policies and algorithms. Account managers stay informed about these changes and adapt their strategies to ensure the shop remains compliant and visible amidst shifting dynamics.

Analyzing Performance: Data-driven decision-making is a cornerstone of successful account management. Sellers analyze metrics related to sales, customer behavior, and marketing efforts to identify trends and areas for improvement.